Gespage version 6.6.1 is officially released, here is the overview of the new features:


Cloud printing: The Windows version of cloud printing is available. This version allows you to print jobs via the cloud. Documents (pdf, office, jpeg) are stored in the cloud and then released on any Gespage printers. Print quality is there because Gespage technology uses native drivers printers. This version allows free use of email printing. You may send your file to print on a dedicated e-mail address in order to automatically store it in the cloud. (The address is compatible with office 365 or Gmail.)


Gespage Remote Server: The Remote Gespage option is probably the most essential option for the big organizations with distant sites. For mostly print management software if the communication between two buildings cut or if the Internet is faulty then printings are blocked. No further information related to user accounts can not go back to the printing server. With our Remote option, if the link with the server is lost, the print management and the management of users and their wallets accounts is not disturbed. Synchronization of different trackers agents is a precision mechanics, all that for providing an incomparable comfort management.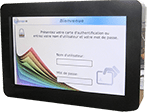 eTerminals Toshiba / KM / OKI / Xerox: New license management with integrated test period. The testing period of embedded modules is now of 60 days. So you can install, test freely and observe these eTerminals ergonomic use. The Xerox eTerminal can be equipped with our TCM3 contactless card reader connectable directly to the MFP.
+ WARNING! If you are updating your Gespage, you must ask us to convert your license before installing the update for the operating license has changed for eTerminals Toshiba / KM / Xerox / OKI, cloud printing and web payment.
Follow us on Twitter to receive our weekly news.